Messages

16
Reaction score

1
Points

13
The latest news about Vanadium miners.
Vanadium Miners News For The Month Of November 2020
Summary
China vanadium spot prices were not updated (?flat) in November.
Vanadium market news - Biden plans to eliminate carbon emissions from the US electric sector by 2035. The case for vanadium storage batteries is picking up speed.
Vanadium company news - Shell & AMG recycling sign agreement with Shandong Yulong to assess building a spent residue upgrading catalyst recycling facility. Bushveld & Largo Resources achieve records.
Neometals pilot plant achieves vanadium recoveries exceeding 75% and 99.5% V2O5 purity. Vanadium Resources releases a strong Limited Scoping Study. VanadiumCorp reports a large Lac Dore Mineral Resource Estimate.
Welcome to Vanadium miners news. November saw a new US President-elect Joe Biden who aims to make the US energy carbon free by 2035. This is potentially a huge boost for the energy storage sector, which includes vanadium redox flow batteries.
Vanadium uses
Vanadium is traditionally used to harden steel. New Chinese rebar standards are requiring more vanadium. Also Vanadium Flow Batteries [VRFBs] are becoming increasingly popular especially for commercial energy storage, most notably in China. Vanadium Pentoxide [V2O5] is used in VRFBs and Ferrovanadium [FeV] is used in the steel industry.
Vanadium spot price history
China Vanadium Pentoxide [V2O5] Flake 98% 1 year chart - Price = USD 7.10/lb (? if price has been updated)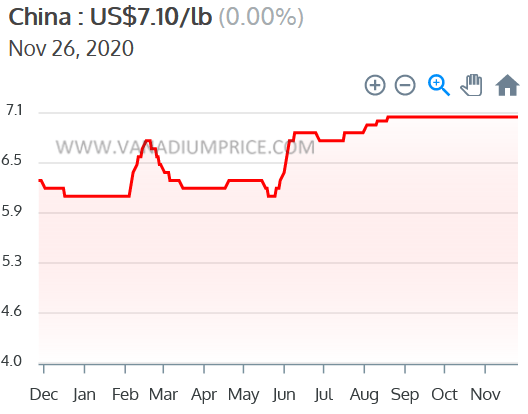 China
Ferrovanadium [FeV] 80% Price = USD 27.00
Source:
Vanadiumprice.com
Vanadium demand versus supply
The charts below show energy storage to be a new source of vanadium demand, and overall demand looks likely to grow very strongly to 2025.
Vanadium total demand forecast to outstrip supply 2020-2025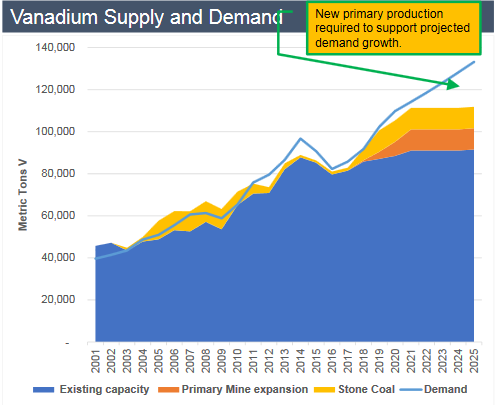 Source
: Technology Metals Australia investor presentation & TTP Squared
Roskill
estimates
that vanadium demand "for VRFB markets" could rise to 31,000 tons by 2025, amounting to a rise of 3,100% in a decade.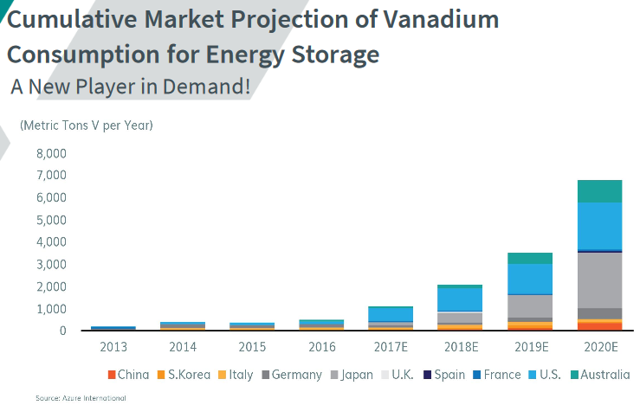 Source
: Australian Vanadium presentation
In 2017 Robert Friedland
stated
:
We think there's a revolution coming in vanadium redox flow batteries...."
Vanadium market news
An article I missed from October 19
reported
:
The case for vanadium storage batteries is picking up speed. Some of California's problems, fires aside, may stem from the issue of storage. California needs to overhaul the way electricity is stored and many in the state are waking up to this......California's quest for better energy storage is playing into the hands of companies that have been pursuing specific large scale, industrial energy storage solutions based on vanadium flow battery technology. Unlike smaller lithium-ion batteries, these are designed to store power from clean energy sources on a massive scale. mong those who could benefit is Invinity Energy Systems (LSE:IES), the vanadium flow battery manufacturer, which has been awarded funding for four projects from the California Energy Commission.
On November 12 Energy Storage News
reported
:
Flow battery to be paired with solar at South African vanadium mine's microgrid system. A solar-plus-storage microgrid being deployed at an alloys mine in South Africa will feature a vanadium flow battery energy storage system, using locally sourced vanadium electrolyte.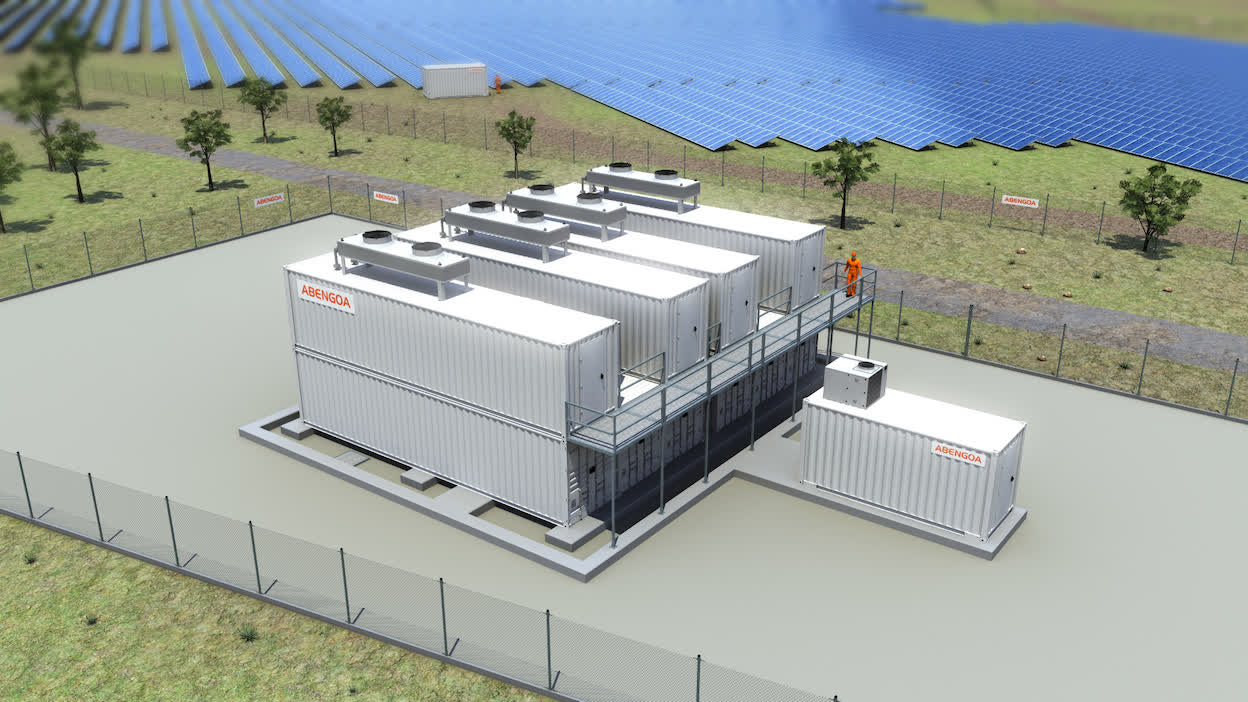 Source
On November 19 Solar World
reported
:
Vanadium flow battery to be installed at Native American-run fire station in Southern California. GRID Alternatives recently installed a vanadium flow battery (VFB) supplied by Invinity Energy Systems at a fire station run by the Soboba Band of Luiseño Indians in Southern California. The 500-kWh battery is part of a $1.7 million project including 500 kW of on-site solar that will ensure uninterrupted power and significantly improve energy resiliency for the Soboba Fire Department.
Invinity Energy Systems VRB
Source
On November 23 BloombergNEF
reported
:
How PV-plus-Storage will compete with gas generation in the U.S. This report by BloombergNEF shows how the combination of solar power plants and battery storage can be a clean, economic alternative to an increasingly large share of U.S. gas generation. Its analysis provides valuable insight on a techno-economic trend that lies at the heart of the future of the U.S. power sector and its decarbonization. It comes at a time where President-elect Joe Biden is preparing proposals that aim to put the U.S. on a pathway toward a net-zero power system by 2035.
Here is the link for the
full article
.
Last edited by a moderator: