Yellow Jacket
GIM2 Refugee
Messages

1,374
Reaction score

1,873
Points

213
Location
So you are saying it was due to the setting Sun? I was thinking that was why, but I've seen the full Moon rise at Sunset before, but cannot recall seeing it look as orangey/red as it did that evening.

It looked like it does at max lunar eclipse, only brighter.

I really wish I had taken a pic of it.
No, I was using the change of hue at sunset to illustrate the similar effect of the hue on the moon. Light waves and the effect they produce when partially obscured...but I'm far from an astronomy expert
What is it Called a Blood Moon?​
The Moon turns a reddish hue when it's completely submerged in the Earth's shadow. Call us picky, but we wouldn't ever describe the color as "bloody." The fully-eclipsed Moon actually becomes orange or coppery like a penny.
While most of the sunlight is indeed blocked, some rays bent around the edge of Earth and reach the Moon's surface. Earth's atmosphere scatters the blue/green colors (short wavelengths), but the orange/red colors (long wavelengths) reach our eyes. It's similar to a sunset.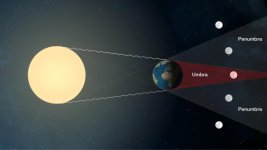 There's boatloads of celestial hype about this phenomenon. We'll help you separate fact from fiction.

www.almanac.com