Messages

2,053
Reaction score

0
Points

0
Since the crash in August/September 2011, stocks had quite a rally. They're up for a correction, the
VIX is bottoming out
(Chicago Board Options Exchange Market
Volatility
Index:
http://en.wikipedia.org/wiki/VIX
)
Several events could trigger the
next stock market crash in the near future
: Most likely it will be
Greece finally defaulting (and leaving the Eurozone)
(probably on March 20th). It could also be the fact that economic data is worsening (early signs: Huge Baltic Dry Index crash to 2008/09 levels in January, energy consumption is down substantially in the US, non-adjusted employment data is abysmal), a full blown war in the Middle East, a hard landing in China, an implosion of Japan, even a chaotic breakup of the Eurozone.
1.) The long-term average of the VIX from 1990 until today is about 20.
2.) As of friday (2-17-12), the index is at 17.13.
3.) Back in July 2011 before the US downgrade and another round of EU debt problems, the index bottomed at 15.
4.) Afterwards, it shot up all the way to 47.5 in August/September 2011.

Long term chart of the VIX 1990-2010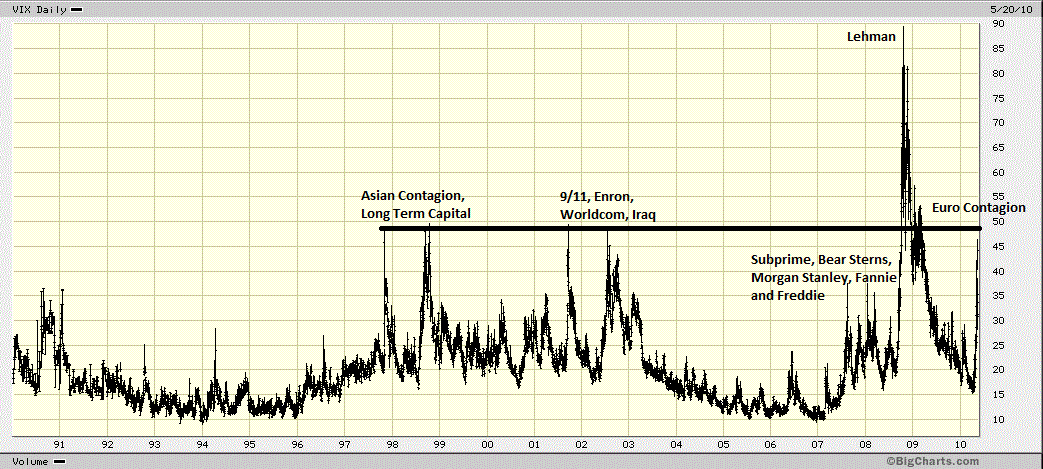 As you can see from the following chart,
the VIX is now undervalued relative to the S&P 500
:
S&P 500 divided by Vix (Volatility Index) Ratio
(S&P 500 (Log chart) green, Ratio red)

Note: If you decide to go long the VIX by buying options or ETNs or whatever, make sure you understand the risks and do your own research. A VIX investment requires close monitoring of the index to be profitable, because you need to sell when stocks crash
Last edited: